Naruto
was born on October 10, but not much is known beyond that. His
parentage remains a mystery, as do any other family ties he may have
had. As an infant, the nine-tailed demon fox, which had attacked the
village of Konoha, was sealed within Naruto's body by the Fourth Hokage
of Konoha.In spite of the Fourth Hokage's wish that Naruto be seen as a
hero who contained the demon, the villagers of Konoha harbored a fierce
hatred for the young child, since he bore the spirit of the demon who
decimated their once peaceful village. He was shunned by his fellow
villagers and their children, his classmates, leaving Naruto a confused
and lonely child.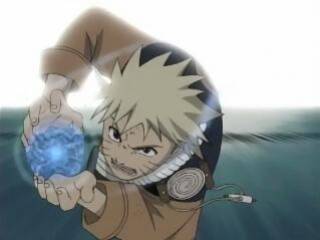 One
good friend to him though lies with his ninja instructor Iruka Umino,
although his parents were killed by the nine-tailed demon fox, he holds
no grudges towards Naruto, but is Naruto's greatest inspiration. Before
graduating from the Academy, Naruto was craving for acknowledgement. He
would play pranks all around the village in an attempt to be recognized
by its inhabitants and is one of the reasons why he wants to be Hokage
so he will be noticed and respected. Naruto's normal chakra level is
considered high for a ninja of his level, partially because of the
demon fox. Even without directly drawing upon it, a small amount of the
demon fox's chakra is always mixed with his own.
His body
instinctively rejects the bulk of it due to the damage it would cause.
Ebisu implies that Naruto's poor chakra control stems from this, as a
portion of his chakra is used to reject the overwhelming fox chakra.
According to Kakashi, Naruto's regular chakra level is about double
that of Kakashi's own. As such, he is naturally suited to jutsu that
use a large amount of chakra, such as his signature jutsu: Shadow Clone
Technique. While most ninja are only capable of creating a few clones
safely, due to the jutsu's hazard of equally dividing the user's chakra
among the clones, Naruto is able to create upwards of two thousand
while maintaining a decent supply of chakra in each one.